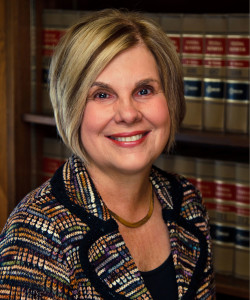 Professor Poulter retired from the College of Law in 2004, after teaching for 14 years in the areas of intellectual property, environmental law and torts. She brought a background of a Ph. D. in organic chemistry from the University of California at Berkeley, to her law practice and teaching. After graduating from the University of Utah College of Law in 1983, she was an associate at the Salt Lake City law firm of Parsons, Behle & Latimer. Prior to joining the law faculty, she served as Assistant General Counsel for IRECO Inc. (now Dyno Nobel Inc.).
At the College of Law, Professor Poulter developed courses combining her expertise in science and law, including Law, Engineering and the Environment; Hazardous Waste Regulation; Environmental Law and Business; and Toxic Torts. She wrote and lectured on scientific evidence, co-authoring the "Reference Guide on Medical Testimony" in the second edition of the Federal Judicial Center's Reference Manual on Scientific Evidence. She served on various committees of the American Bar Association and the American Association for the Advancement of Science (AAAS), including the National Conference of Lawyers and Scientists, and was a member of the advisory board of the AAAS Project on Court-Appointed Scientific Experts.
Professor Poulter lives in Park City and is on the Advisory Board of the Swaner EcoCenter and Preserve (www.swanerecocenter.org). She continues her participation in the law school and enjoys talking with students about combining careers in science and law.